Over 15 years of Experience in treating Infertility with Assisted Reproductive Technology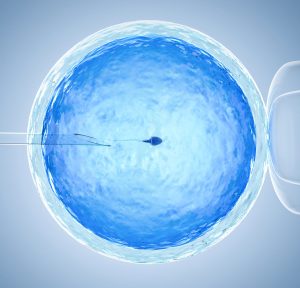 Success rate at V Fertility Center is 88.61%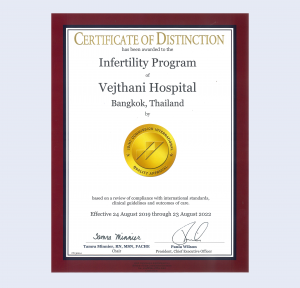 World's first hospital to receive Clinical Care Program Certification for "Infertility"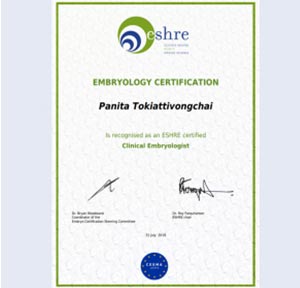 V Fertility Center is facilitated with internationally certified embryologists
Why undergo ICSI at
V Fertility Center
International Standard V Fertility Center is the world's first hospital to receive CCPC Certification by Joint Commission International (JCI), an organization from the United States that evaluates health care quality in hospitals across the globe. The center also provides medical services with highest safety standard and modern technology.
Highly Experienced Medical Team Obstetrician-gynecologist specializing in Reproductive Medicine and a team of expert embryologist with over 15 years of experience. We do not only treat infertility problem but we provide counseling services, diagnosis and treat couples with the desires of having children but face infertility problem. Obstetrician-gynecologist specialized in Reproductive medicine and team of embryologist serve a complete range of treatment throughout every step with 15 years of experience, that leads to high chances of pregnancy.
Internationally Certified Embryologists
ESHRE certification for Clinical embryologists
ESHRE : European Society of Human Reproduction and Embryology
Personal Assistants
V Fertility Center facilitates patients with a team of highly experienced nurses providing personalized care to patients for 24 hours, with close assistance while giving advice throughout the entire treatment process with utmost care.
Solution to Infertility Problem
"Technology can be a helping factor here, allowing you to have a healthier child. This is how I see it and it's not something to be ashamed of. Because if we have infertility problem, we could be disheartened and we realize it when we are old and that will be too late."
A special interview with another successful ICSI case at V Fertility Center. Let's hear the impressions of Mr. Pon-Ek and Mrs. Ketkanok's on their experience of having twin babies, Chin and Chorn by relying on Dr. Wannakan Singhasena and the nursing team who have taken care of them throughout the entire treatment journey, including the deliveries of the twin babies, contributing to their good health and fulfilling completeness in their family.
Freeze Egg and undergo ICSI with Dr. Wannakan Singsena
"I am a complete person with my career and a sweet family, but what's missing is a child of my own who could carry on the generation."
Dr. Peeraya Jaideechareon, mother of Stet and Siring placed her trusts on Dr. Wannakan Singnsena and the nursing team at V Fertility Center for egg freezing and ICSI. Dr. Peeraya chose the center to be her supporting platform during a crucial time of her life.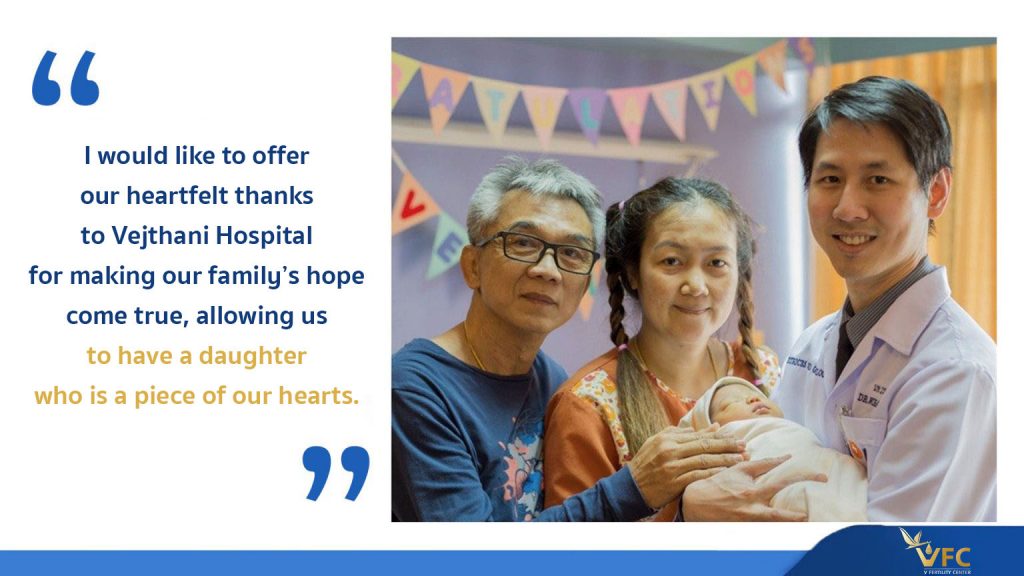 I would like to offer our heartfelt thanks to Vejthani Hospital for making our family's hope come true, allowing us to have a daughter who is a piece of our hearts.
"I was overwhelmed from the moment I heard my daughter's cry. Dr. Worawat has been taking caring of us the whole time. Since the treatment began until my delivery. The entire nursing team came to visit me after the labor, I am delighted with the experience! I would like to offer our heartfelt thanks to Vejthani Hospital for making our family's hope come true, allowing us to have a daughter who is piece of our hearts."
Interview with Mrs. Siriporn Senanikom( 40 years old) and her husband (62 years old), new parents who wished to have a child of their own who can perfect their family. The couple relied their trust and consulted about their infertility problem and eventually decided to let the doctor along with the nursing team to treat their condition, from egg freezing stage all the way to the delivery of their precious daughter, Baby Eong Eoy.
Success Story: Fertility Treatment of Indian Couple
With longing to create a complete family, the couple visited the V-Fertility Center at Vejthani Hospital that offers advanced reproductive technologies, in hopes for welcoming a new member. What they went home with , is a reality beyond their dream.
The couple received a successful IVF treatment with utmost care from a dedicated medical team and Dr. Worawat Siripoon, an obstetrician specialized in Gynecology-reproductive Medicine.
Watch this heartwarming testimonial from our delighted patients.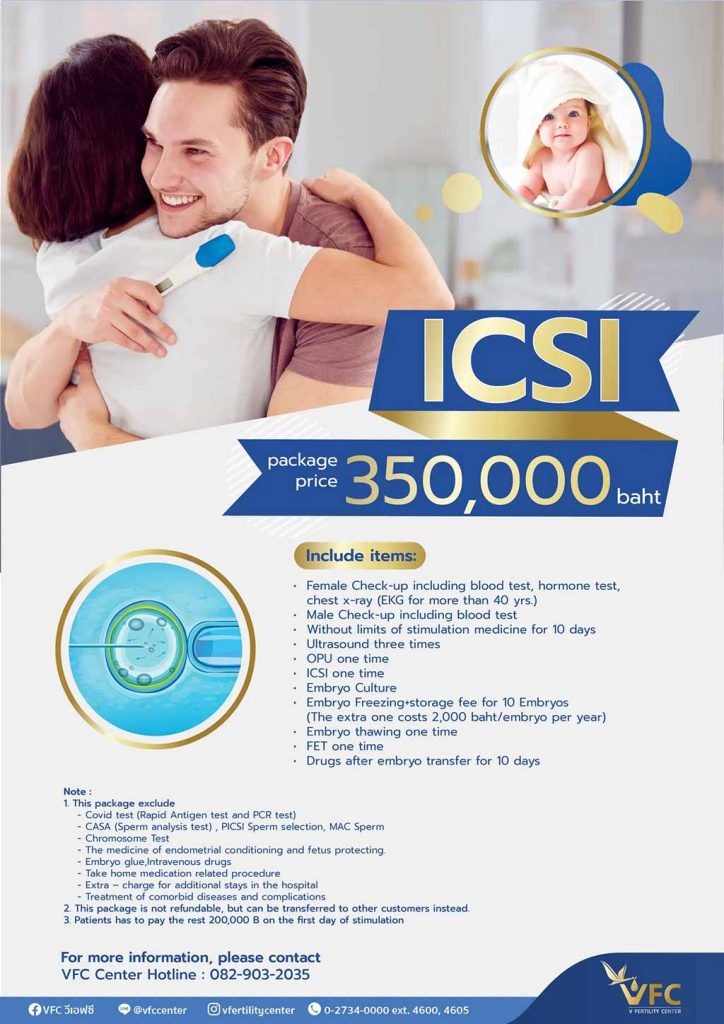 Health Articles and Video on
IVF and ICSI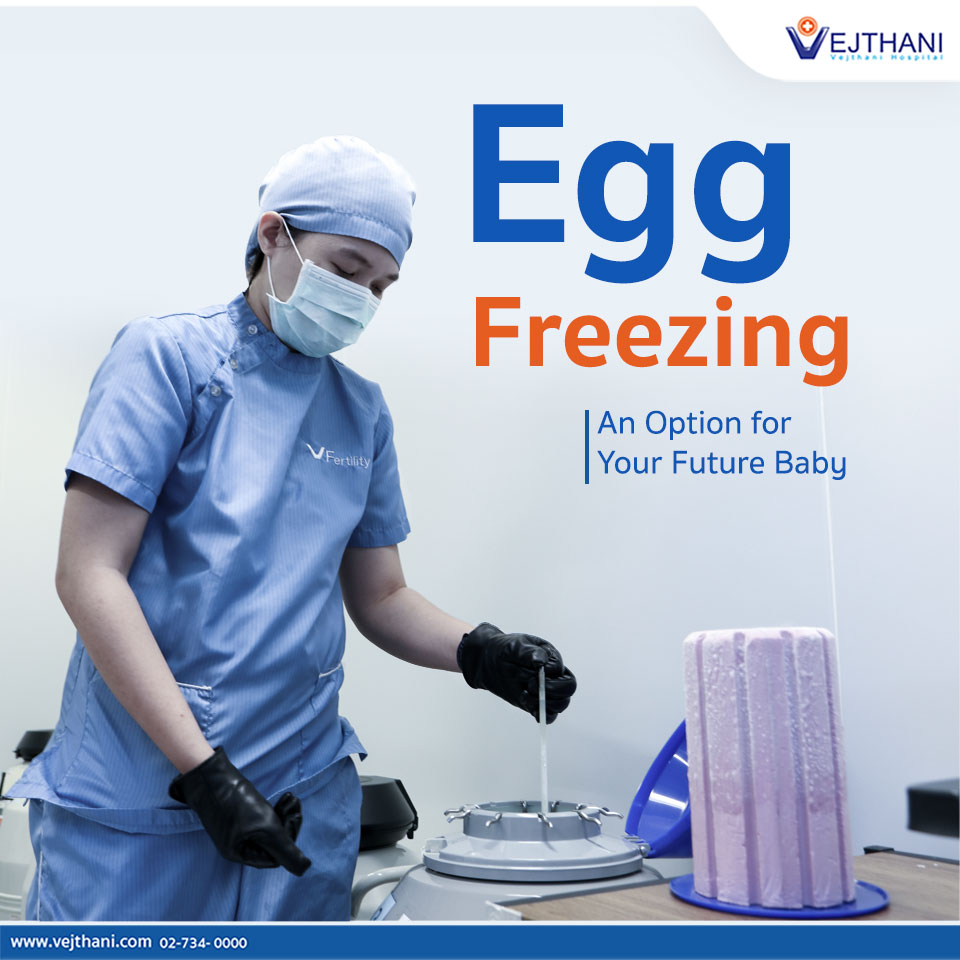 It is one of the recommended infertility treatment for women. With egg freezing, it can pause the age and the quality of the eggs, so that you will have good quality eggs to use in the future when you are ready to have children. The most suitable and recommended time to do the egg freezing is at 20 – 35 years old.
Our fertility physicians can provide full evaluation and treatment of fertility, infertility and pregnancy problems. Our caring staff is aware of the stressful and emotional difficulties, which affect couples dealing with the issue of having a family. All of the services at Vejthani IVF Clinic are offered in a warm and friendly atmosphere with individual treatment plans, our patients are our priority and supporting their needs for ICSI IVF infertility treatment is one of our primary
goals.
Immediately after the fertilization, the eggs will develop into embryos, and then the good quality embryo will be transferred to the female's uterus.
ICSI is a specialized form of IVF treatment in which a single sperm that has been selected is injected into the centre of the egg, while in IVF, the egg and the sperm are left in a laboratory tube to be fertilized on their own. ICSI increases the opportunity to plan the pregnancy appropriately and makes it easier to conceive when compared to natural methods.
Has
over 15 years

of Experience in Treating Infertility with Assisted Reproductive Technology
Received certification for Clinical Embryologist
from European Society of Human Reproduction and Embryology (ESHRE)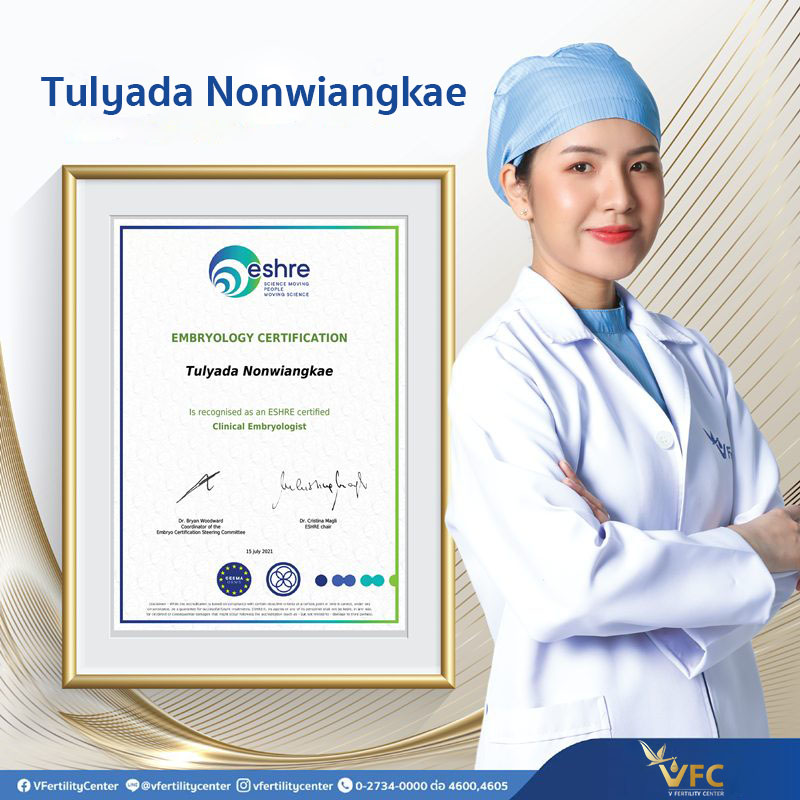 Clinical Embryologist Certified by ESHER in 2021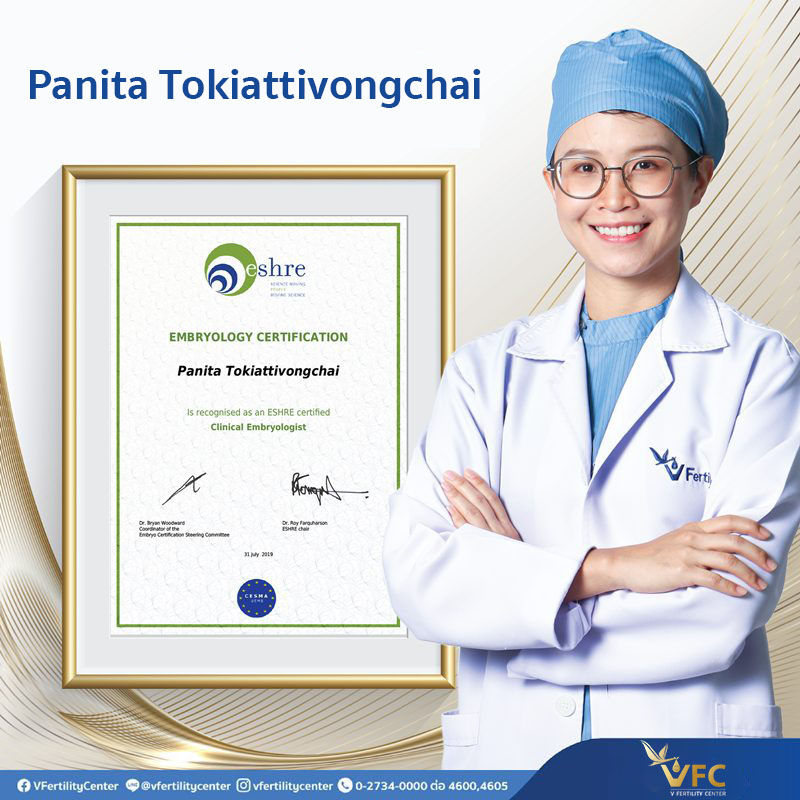 Clinical Embryologist Certified by ESHER in 2019
Our Services at
V Fertility Center
Infertility screening
Provides consultations and initial screening tests for infertility problem such as semen analysis, pelvic ultrasound, ovarian function test and examination of the fallopian tubes with contrast dye injection.
IVF / ICSI
Infertility treatment with In Vitro Fertilization (IVF)/ Intracytoplasmic Sperm Injection (ICSI), injection of follicle-stimulating hormone and embryo transfers.
Embryo/Egg/Sperm Freezing
for infertility treatment
Preimplantation Genetic Diagnosis (PGD)
Is an embryo analysis to detect genetic diseases for screening and diagnosing the abnormalities of the embryo, structural chromosome abnormalities before the embryo
Intrauterine Insemination (IUI)
A procedure that directly injects sperm into the womb to treat primary infertility problem.
Laparoscopic surgery
Gynaecological laparoscopy and hysteroscopy for treating infertility associated with abnormalities in the uterine cavity
Surgical Sperm Retrieval (SSR)
A sperm collecting procedure directly from the testicles in patients with no sperm found in the semen.